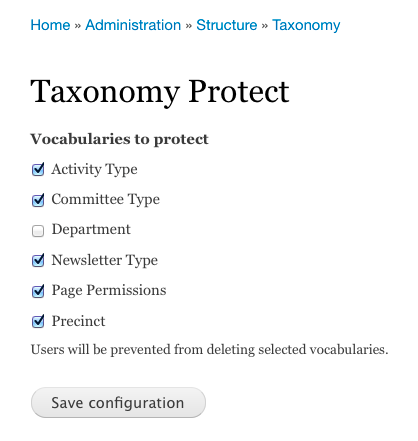 It started with a frantic email from one of my clients.  They had accidentally deleted a taxonomy vocabulary and needed help in fixing their site.  As I looked into it, I saw just how much damage this had done.  This site used Taxonomy Access Control Lite to let contributing users edit parts of the site, and the vocabulary that they deleted was used with this access control.  This meant that the access settings were gone now for a couple thousand nodes.First, I put the site in maintenance mode so that contributors wouldn't be able to make any more changes (that would be overwritten when the site was restored from backup).  Then, I worked with their hosting provider to get a database backup from the night before and restored their site.  Luckily, they only lost a few edits from earlier in the day.
The next thing I did was write a hook_form_alter() to remove the "Delete" button from the taxonomy vocabulary form so that they couldn't delete one of these important vocabularies again.  And then I went running.  While running, I thought "Hey, this might actually be a useful module for someone else."  So, when I got back, I turned that hook_form_alter() into a real module with an admin page to choose the taxonomy vocabularies to protect.  Then, I added my new module to drupal.org.
That's how Taxonomy Protect came about.
4 Comments
that is why I love drupal..
What you've done is great. I hope I can do something helpful like that.
First time I am visiting your site. I found so many entertaining stuff in your blog, especially its discussion. From the tons of comments on your articles, I guess I am not the only one having all the leisure here! Keep up the excellent work. So I am regular user of this site. All the stories you shared here are interesting and excellent. It helps to boost the knowledge. Thank you so much and please keep sharing such informative post in future. For any kind of academic writing work visit https://dissertationpanda.com
as you provided many themes option! i live most of one boat! kindly share the detail about the project so i also made it i am a developer and recently develop a best custom essay writing service this project and i happy to say that it's going amazing.